CORE
A rich and silky delight sure to please all chocolate lovers.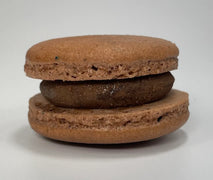 Choc-a-lot
Bright and fragrant lavender shells are paired with a rich and exotic Manuka honey buttercream, a truly special combination.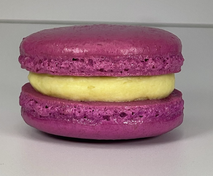 Raspberry Lemonade
A tropical home run. Coconut shells are topped with coconut flakes, with a ring of coconut buttercream and a surprise middle filling of mango and pineapple curds.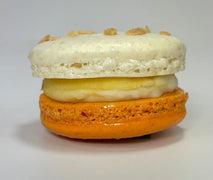 Cocolada
A touch of salt brings forward the sweet vanilla notes in the irresistible caramel buttercream, spiced with notes of pink peppercorn and cardamom.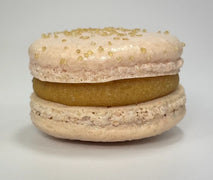 Sweet-N-Salty 
Keep Cookie Monster away from this one! America's favorite cookie is combined with classic cookie dough for a no-brainer combo!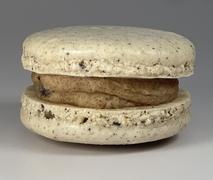 Cookiesplosion
We took this French classic a step further, with a triple punch of pistachio flour, pistachio butter and toasted pistachio crumble.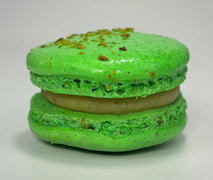 Pistach, yo!
Who doesn't love all those bright colors? This unique cookie features a combination of strawberry, lemon and blueberry flavors, with an orange buttercream filling.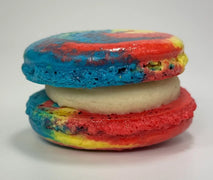 Fruitti Tutti 
Enjoy being seduced by this gorgeous red velvet treat, with a filling of vanilla cream cheese buttercream.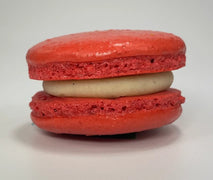 Devil's Velvet 
No lineup is complete without sprinkles. Lots and lots of sprinkles. White chocolate ganache gives these birthday cake treat its sweet shine.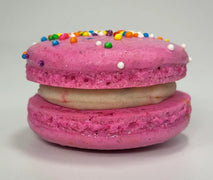 Funfetti
The classic lemon macaron took a savory twist! Enjoy fresh notes of basil and a rich and tangy meringue buttercream.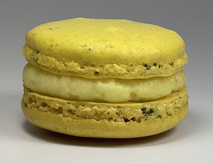 Lemonhead
We kept the raisins out of this one, but we promise the result won't disappoint! Enjoy a new take on your favorite carrot cake recipe!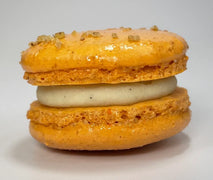 Bunny's Favorite 
Kids know this one on sight! Whimsy pastel colors with a classic strawberry hibiscus buttercream. Unicorns are all the craze!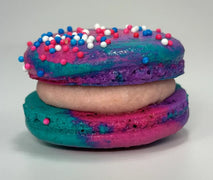 Berricorn
Enjoy this mouthwatering treat, complete with mesmerizing cosmic swirls! Features a decadent blackberry cheesecake filling and elegant rose shells.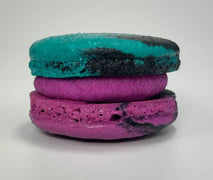 Galaxy
This classic combination of raspberry and chocolate is sure to dazzle any macaron lover!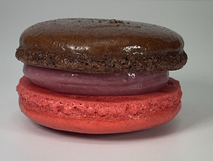 Razzle Dazzle
Palm Beach County, meet Peanut Butter and Chocolate! A new take on everyone's favorite candy cups, complete with chocolate and peanut butter drizzles.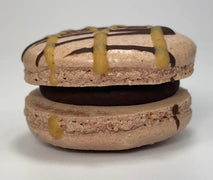 P.B.C 
SEASONAL
Nothing says fall more than fresh pumpkin! Our take features fall spices and a whipped and luscious texture.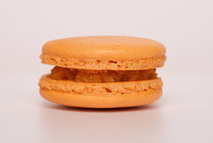 Harvest
A sweet and salty combination of forest berry jam with pie-crust buttercream.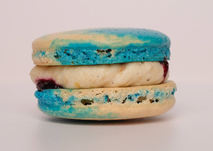 Cobbler
Taken straight out of nana's old cookbook, enjoy a classic southern favorite.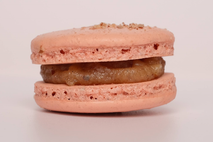 Time for Pecan
VEGAN
Between a ring of sweet and salty pie-crust buttercream is a hidden center of rich and tangy blueberry jam that will leave your lips puckered.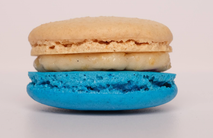 Wild Blue
Adding real Mexican vanilla bean paste to our classic vegan buttercream gives this crowd-pleaser and rich and aromatic flavor, complete with the specs of bean we all love to see!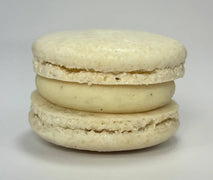 Nilla 
We took a comfort food classic and gave you a vegan macaron twist! Enjoy the warm notes of vanilla and cinnamon in this delightful cookie.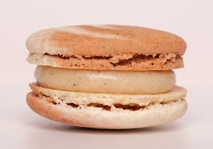 CinnyBun
Skip the cup of morning Joe and take a sip of this rich vegan cookie filled with a tantalizing espresso buttercream.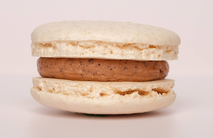 Morning Call
Simple and elegant, a bright and tangy favorite to please all lovers of the classic strawberry, made with jam and a vegan buttercream.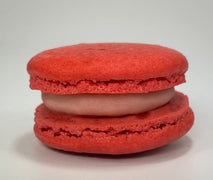 VerryBerry
Pack enough high-grade cocoa powder into any frosting and you will get that rich and silky chocolate flavor that everyone adores.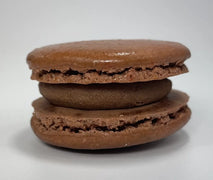 Coco